Cool to Look at, Soft to Touch
For a Cold or Chilled look
Combining the need for a high-end, sophisticated and exclusive bottle with the lightweight and durability of plastic, we have created Frost.
Enhance your brand appeal top-to-bottom and provide a delicate visual and soft tactile differentiator while reducing your processing and handling costs with Frost.
The soft matte finish of Frost allows brand owners to convey their preferred contents and see the possibility that plastic can offer while still keeping their brand color intact.
Used in: Cosmetics and personal care, Detergents, Spirits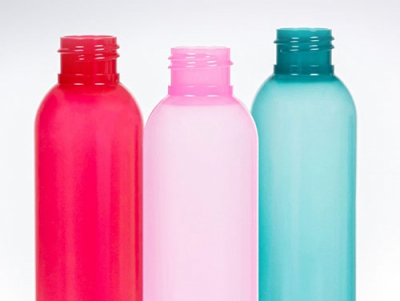 At a glance
The benefits
A single-step option for processors

Can be used by itself or with HCA colorants

Developed specifically for PET

Low-dosing, low-dust, free-flowing and easy processing

Soft-feel look and texture for visual and tactile differentiation

Appeals to processors, brand owners and consumers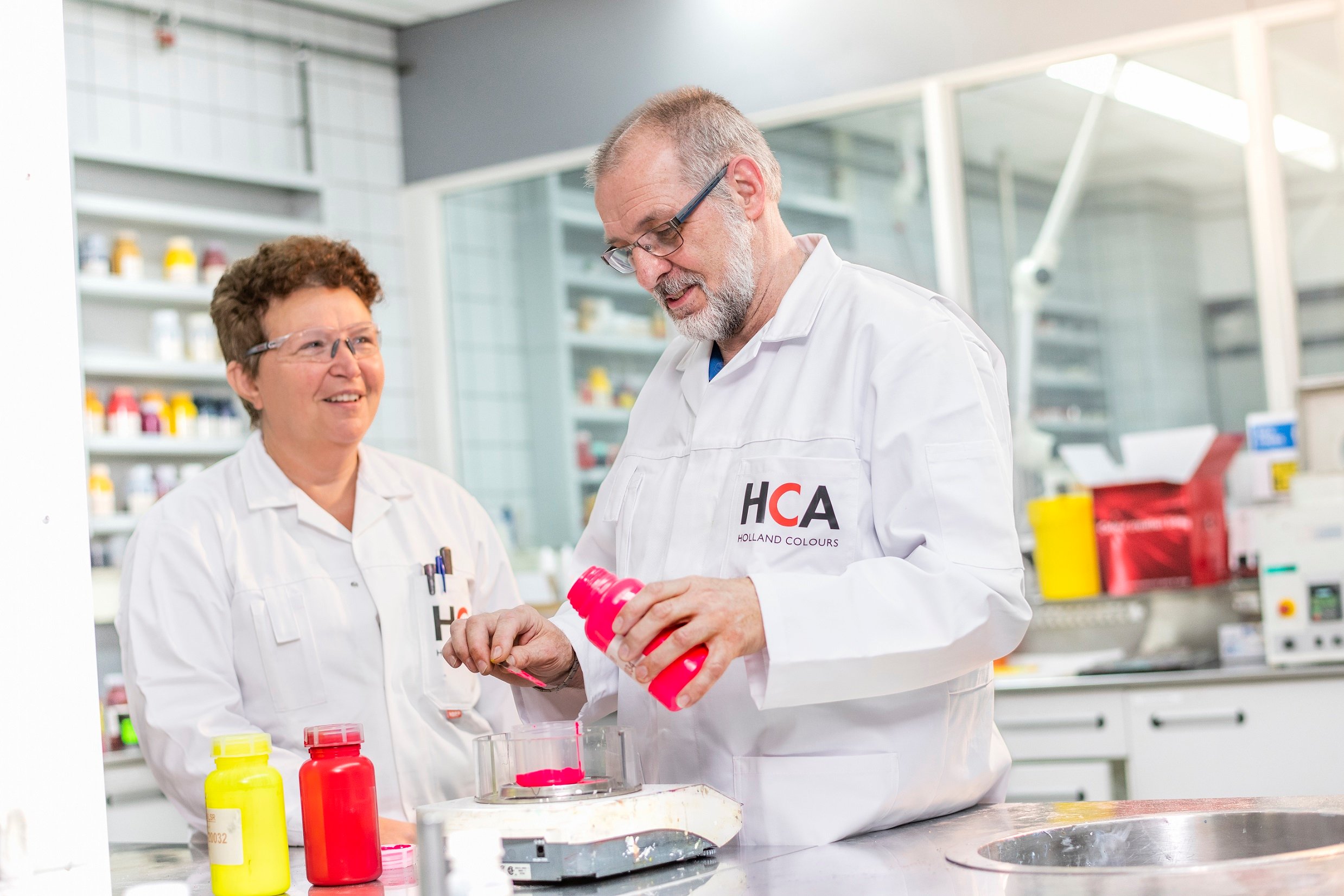 Get the look
Feel the Sophistication
The soft matte finish of Frost allows brand owners to convey their preferred contents and see the possibility that plastic can offer while still keeping their brand color intact.
The Frost line provides a velvety, slip-resistant texture suitable for cosmetics, lotions, cleansers and high-alcohol applications. Frost has a wide range of uses where a textured feel is required for tactile distinction with the benefit of cost reduction in processing time.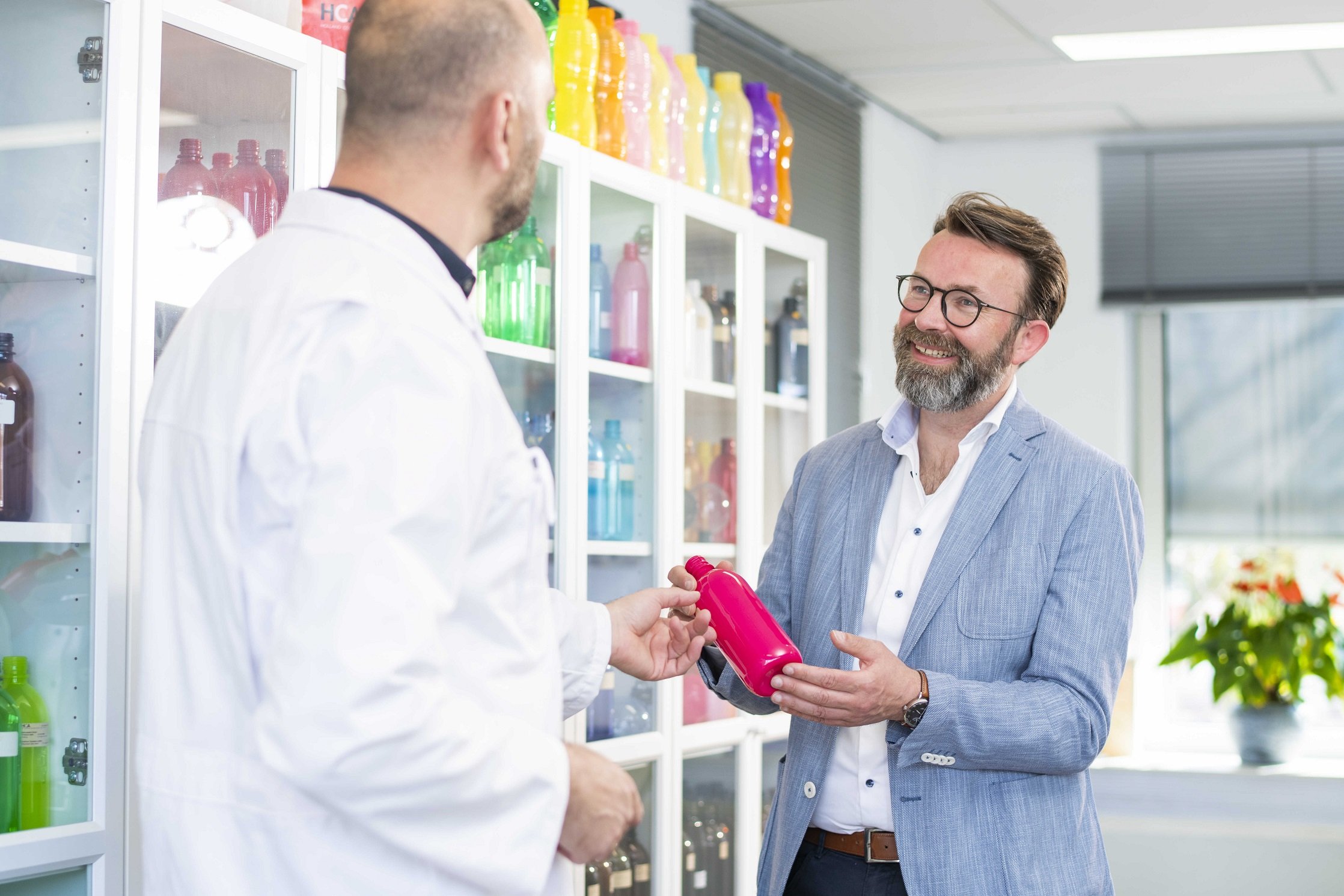 adapt
to stand
out
Frequently asked questions
By adding Holland Colours' Frost, an innovative product for PET bottles, you can get a high-end, frosted looking bottle from top to bottom. Frost has potential applications across a wide range of consumer products including cosmetics.
With Frost, you can replace spray-on or painted frost effects and achieve a cool, icy look and velvety, slip-resistant texture, with consistently controlled dosing and less production time. For brand owners and bottle producers, it's an opportunity to increase speed to market, and reduce long-term manufacturing costs.
Frost was developed to replicate the premium look and soft, "grippy" texture of frosted glass in a lightweight, less costly, scuff and mar-resistant material. The translucent effect is created with significant gloss reduction, regardless of orientation. The product is FDA approved for creamy, oily and high-alcohol applications, making it an ideal material for cosmetics, lotions and cleansers as well as for liquor bottles.
While Frost is not intended for use in opaque packaging, a nice translucent look can be achieved when the additive is combined with a color and dosed at a higher level (possibly .5 to 1.0 pph). So, like many other Holland Colours products, it is extremely low dosing while achieving the sought after, cooled color effect.
Holland Colours' Frost is not a color. However, it can be combined with many transparent and translucent colorants in a variety of dosing levels. The Frost, by itself, gives a "cold" or "chilled" look. But, for some projects, that is not enough. So, combining Frost and many of the Holland Colours' colorants can result in a nice, frosty look very similar to HDPE packaging or glass.
Holland Colours can customize Frost colors to match any branding. Frost delivers a truly enhanced look and feel. We have the ability to create a desirable, frozen appearance with a very touchable matte finish in any color you like.
Safety of food for human consumption is a necessity. Packaging and packaging components play a role in maintaining food safety by preventing food spoilage and preventing adulteration. Holland Colours formulates packaging components with food-contact-compliant ingredients. Holland Colours' recommendations for the use of our products includes compliance parameters and restrictions, thus helping to ensure compliance with applicable food safety regulations.
Product Stewardship is a code of conduct whose objective is to control risks throughout the life cycle of a product. The concept of Product Stewardship is the application of Responsible Care to products. Its objective consists of informing clients, users about possible risks in chemical products. It therefore involves a knowledge and command of risks linked to chemical products throughout their life cycle: from the research laboratory to development to the purchase of raw materials on through the production process, followed by the transport and distribution of intermediate or finished products and beyond.
The exact aim of Product Stewardship is, in an effective and economically viable way, to reduce the negative incidence of chemical products on the environment, security and health throughout their life cycle from "the cradle to the grave" ("cradle to grave approach"). In concrete terms, the Product Stewardship is applied in the following steps:
The identification of potential dangers that a product could present. These can be of physical chemical, toxicological or ecotoxicological origin.
The evaluation of risks during production, transport, storage and packaging of raw materials and finished products.
Taking into account additional risks linked to applications and possible later modifications or transformations of the product. Product Stewardship reflects the efforts of chemical industry to promote conscientious and responsible use of its products through different tools such as Safety Data Sheets, Product Specifications indicating what the product is developed for, and a strict and uniform labeling system.
The implementation of the REACH European legislation falls into this framework.
HOLLAND COLOURS practices numerous quality procedures and work instructions to adhere to the principles of Responsible Care. A typical application area where this must apply is the food contact applications market.
HOLLAND COLOURS formulates with carefully selected ingredients that meet the relevant regulatory compliance. According to the European food contact regulation, the suitability of the coloring preparation must be established by performing relevant migration test(s) on the final article.
In order to facilitate our customers to set up appropriate migration testing procedures to secure food contact compliance according to the relevant regulations, HOLLAND COLOURS Europe B.V provides adequate information in the form of a Product Data Sheet Regulatory Status document.
As an example, our Frost product (with code 098-10-29568) is suitable for food contact applications. Using a theoretical calculation based on compliance restrictions of the component(s) in the preparation HCA is in a position to indicate a maximum dosing level can be indicated to maintain suitability. For this preparation the maximum dosing level is 1,87%. The final compliance check needs to be performed on the final article. Further relevant information is available in our Product Data Sheet Regulatory Status document.
Safety and peace of mind
Product stewardship
Our industry-leading product stewardship team will give you peace of mind, knowing that all of our products are up to code. We'll keep you informed and up to date on all relevant new regulatory developments.