Packaging
Holland Colours' biobased color concentrates used in the first The Ocean Cleanup sunglasses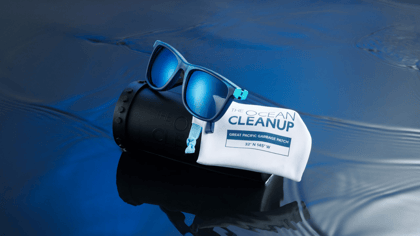 Holland Colours is proud to reveal its role in the development of The Ocean Cleanup's first product to be made with certified ocean plastic from the Great Pacific Garbage Patch.

Plastic pollution, which is already found in every one of the world's oceans, is a major and growing concern. As a supplier of color concentrates to the plastics industry, sustainability and social responsibility are topics that Holland Colours takes extremely seriously.



Holland Colours partners with The Ocean Cleanup
For this reason, we joined The Ocean Cleanup, the groundbreaking plastic cleanup organization founded by Dutch inventor Boyan Slat, in 2013. The Ocean Cleanup, a non-profit organization developing advanced technologies to rid the world's oceans of plastic, seeks long-term partnerships with companies that want to help to solve one of the biggest environmental problems of our times.

"We are delighted to be a The Ocean Cleanup partner," commented Gina Provó Kluit, Global Marketing Director of Holland Colours. Our mission is to contribute to the development of a sustainable industry and to co-design color and functional solutions with our customers. We need to move to a more sustainable world, so we want to help such initiatives where we can by adding value to their recycled end product. We wish even greater success to The Ocean Cleanup team."

Color concentrates in a biobased carrier for standout sunglasses
Over the last months, Holland Colours has worked closely with The Ocean Cleanup team to tailor our sustainable color concentrates in a biobased carrier (biobased color concentrates) to the requirements of the organization's first product made with certified ocean plastic: sunglasses. 100% of proceeds go back to The Ocean Cleanup to fund the continuation of the cleanup.

For the plastic frame of the sunglasses, we delivered a biobased color concentrate to color the captured ocean plastics. Specifically, The Ocean Cleanup was looking for two different shades of blue that could be dosed simultaneously to create a swirl pattern that would mimic the ocean.

Holcobatch® sustainable plastic color concentrate
This partnership aligns perfectly, not only with our commitment to sustainability today, but also with our roots as a company. Founded in 1979 with a vision of creating a new way to color plastics – using encapsulated pigments instead of powders – our first product was Holcobatch®, a highly concentrated, dust-free carrier for coloring PVC pipes. Today, our technology is used to color a wide range of plastics, including – now – those recovered from the Great Pacific Garbage Patch.

Our technology product benefits include lower pigment dosing and better pigment distribution, which together reduce the amount of pigment required. Crucially and uniquely, the carrier used can be either naturally sourced product, recycled material or biobased material. We do not compromise on regulatory compliance as we maintain the highest quality standards.

Thanks to ongoing innovation, our product range today covers a full palette of customized color concentrates and functional solutions. The transparent, opaque, metallic, and frost effects can be combined with functional additives to create a 1-pack solution.

Media Contact
Gina Provó Kluit-Gonesh,
Global Marketing Director
gprovokluit@hollandcolours.com.

About Holland Colours
Holland Colours develops, produces and commercializes solid and liquid colorants, masterbatches and additives for building and construction plastics (PVC) and packaging (PET and polyolefins). Next to serving these global markets, we offer color concentrates for coatings, elastomers and adhesives and other applications. Our technical experts are always creating new color solutions to give our customers peace of mind based on precise color match and color consistency.

Holland Colours is a Dutch company listed on the Euronext Amsterdam Stock Exchange. With committed employee shareholders and operations in the Americas, Europe and Asia, we provide personal local service on a global scale.
www.hollandcolours.com


About The Ocean Cleanup
The Ocean Cleanup develops advanced technologies to rid the world's oceans of plastic.

Founded in 2013 by Boyan Slat, The Ocean Cleanup now employs approximately 95 engineers and researchers. The foundation is headquartered in Rotterdam, the Netherlands.
Instead of going after plastic debris with vessels and nets – which would take many thousands of years and billions of dollars to complete – The Ocean Cleanup plans to deploy a fleet of long floating barriers that act as an artificial coastline, enabling the winds, waves, and currents to passively catch and concentrate the plastic. Once fully operational, the full fleet of passive collection systems is expected to remove 50% of the Great Pacific Garbage Patch every five years' time.

After years of conducting reconnaissance expeditions, scale model tests, and the deployment of prototypes on the North Sea, the first ocean cleanup systems were deployed into the Great Pacific Garbage Patch in 2018 and 2019. Once proof of technology is achieved, The Ocean Cleanup can commence full-scale cleanup and begin removing vast amounts of ocean plastic that have been accumulating in the ocean for decades. In October 2020, The Ocean Cleanup, in close cooperation with partners in the value chain, for the first time went 'full circle' and presented its first product, made from the Great Pacific Garbage Patch, with 100% of the proceeds going to the continuation of the cleanup.

Complementary to its approach to solving the legacy problem of plastic in the ocean garbage patches, the organization developed the Interceptor™ technology to help prevent plastic garbage from entering the oceans.
www.theoceancleanup.com